How Can You Support the Vision?
As ecosystem members there are different ways to support the vision.
This page is a non-exhaustive collection of ideas and smaller to bigger ways to support the growth and expansion of the ecosystem.
Join the IOTA Discord​
First and foremost join the IOTA Community on the IOTA Discord server. Click on this link to get the invitation to the server and get in touch with the IOTA Foundation members and the awesome IOTA community members.
Crypto platforms​
Coinmarketcap​
Watchlist​
Register an account or use your existing Binance.com account. Add IOTA and Shimmer to your watchlist by clicking on the ⭐
Follow @IOTA​
Follow IOTA's profile on Coinmarketcap
Be active on the CMC community page​
Post a daily comment about your sentiment and what you think about IOTA and Shimmer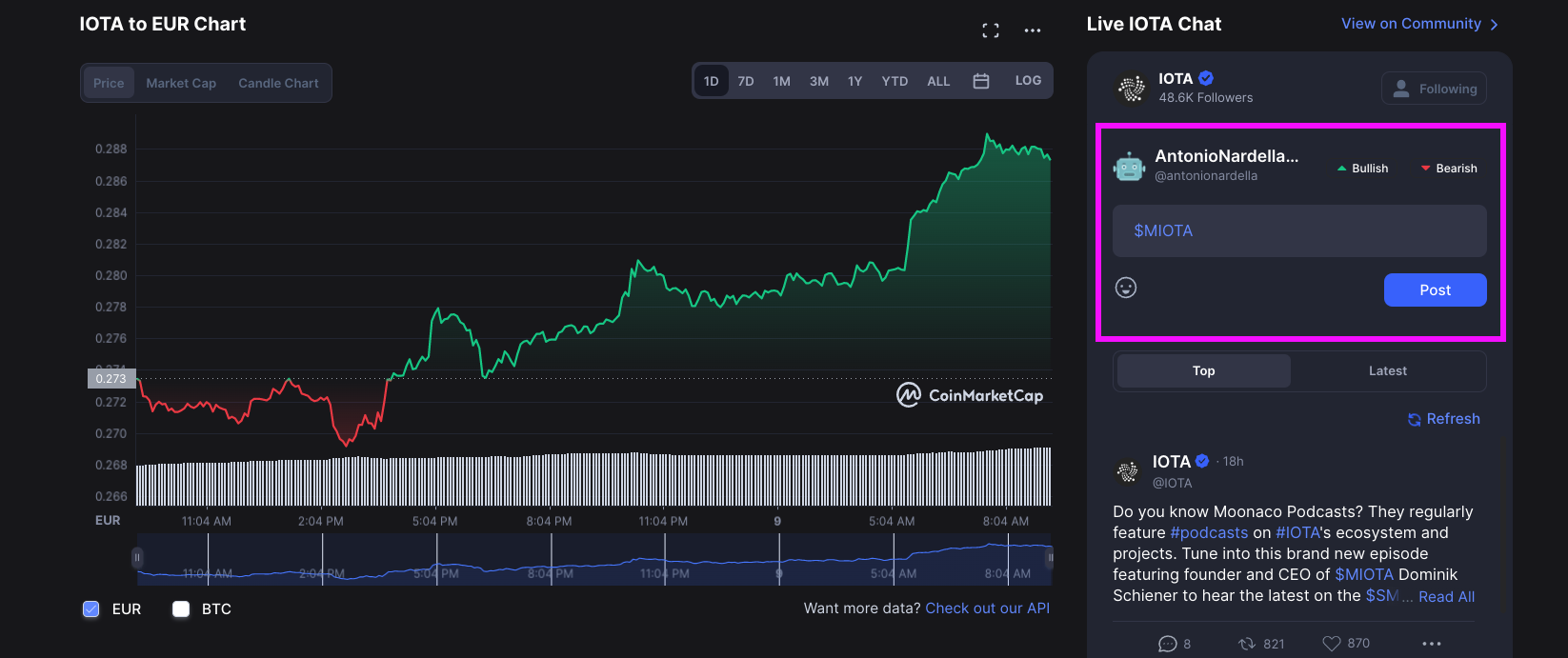 Coingecko​
Watchlist​
Register an account. Like IOTA by clicking on the ⭐
Social Media platforms​
Register an account at the following sites and follow, subscribe, like, star, upvote the activities by the IOTA Foundation and the ecosystem projects.
Twitter​
Like and retweet news in the ecosystem.
Follow the IOTA Foundation and Shimmer on Twitter and follow them daily to like and retweet. Look for other projects or ecosystem members, follow them, and like their tweets.
These are some interesting IOTA related projects you can follow as well.
LinkedIn​
Like and reshare news from the IOTA Foundation and other ecosystem members with your professional network. Someone somewhere is looking for IOTA as a solution, and they do not know it yet.
Follow the IOTA Foundation on LinkedIn here by clicking on the three dots and then + Follow to like and share the articles

YouTube​
Watch the videos by the IOTA Foundation, learn about solutions built with IOTA and share them with the people you know.
GitHub​
Starring a repository has some potentially beneficial effects for the repository. When a developer looks for a repository for certain functionalities, the number of stars gives a rough indication of the popularity and, therefore, the quality of the repository.
After you have fulfilled the requirements, open the following repositories and star ⭐ them: