If you are new to Discord as a platform, have a look at their Beginner's Guide to Discord which is translated in different languages.
Join the IOTA Discord​
Go to discord.iota.org to join the IOTA Discord.
Requirements​
A verified Discord account is required to get access to the IOTA Discord.
First Steps​
Make sure to read the server rules and accept them.
Before verification, the list of channels will be very limited. Use the #1 | verification channel to verify your user.
Verification Process​
Click on the Verify button in the channel
The verification system will send a message in the channel. Click on the Click me to verify! link to start with the verification.
Discord will warn you before opening a browser. Click Yep to continue.
Once you are verified, the IOTA Discord will display channels.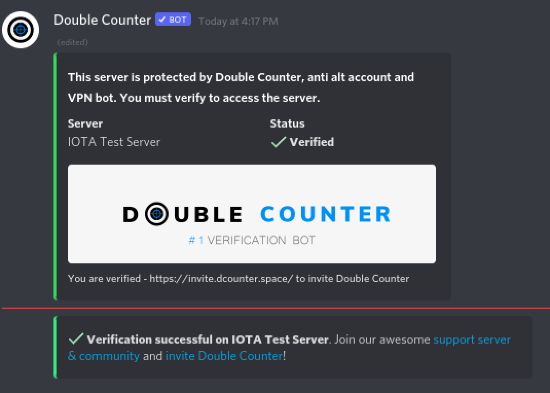 Welcome to the IOTA Discord​
A series of channels and categories are unlocked once your account is verified.
Onboarding
Visit Channels & Roles
Click on the buttons there to start with the onboarding and unlocking further categories and channels based on your interests.
Next steps​
Visit the 📋 | learn-the-rules channel
Please read the information there to learn about our rules and tips.

Access the 🦺 | stay-safe channel
Read the tips there to understand how to stay safe on Discord.

Access the 📛 | get-your-badges channel
Within the IOTA Community, we use Discord roles as badges and to enable members to identify themselves within a group or get write access in regional channels. The roles are also used to notify the members of specific or dedicated events and polls or surveys.
---
Useful Links​