If you are new to Discord as a platform, have a look at their Beginner's Guide to Discord which is translated in different languages.
Join the IOTA Discord​
Go to discord.iota.org to join the IOTA Discord.
Requirements​
A verified Discord account is required to get access to the IOTA Discord.
First Steps​
Make sure to read the server rules and accept them.
Before verification, the list of channels will be very limited. Use the #verification-help channel to get support for the verification.
Verification Process​
Make sure to have DMs (direct messages) enabled.
note
After the verification process, it is suggested to disable direct messages as those are prone to be used to send spam messages or scams.
The verification system will send a direct message. Click on the Click me to verify! link to start with the verification.
Discord will warn you before opening a browser. Click Yep to continue.
Once you are verified, the IOTA Discord will display channels.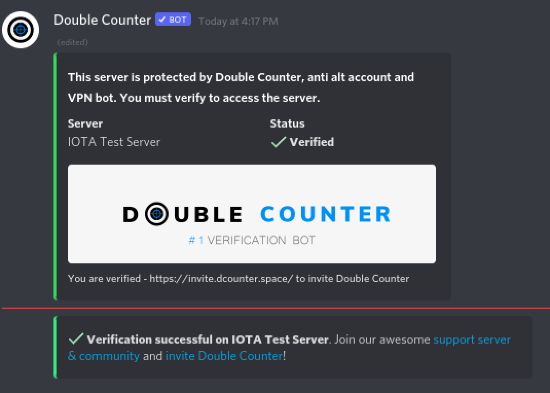 Welcome to the IOTA Discord​
A series of channels and categories are unlocked once your account is verified.
Onboarding
Visit the 🏁 | first-steps channel Click on the button there to start with the onboarding and unlocking further categories and channels based on your interests.
Next steps​
Visit the 📋 | learn-the-rules channel Please read the information there to learn about our rules and tips.

Access the 🦺 | stay-safe channel Read the tips there to understand how to stay safe on Discord.

Access the 📛 | get-your-badges channel Within the IOTA Community, we use Discord roles as badges and to enable members to identify themselves within a group or get write access in regional channels. The roles are also used to notify the members of specific or dedicated events and polls or surveys.
---
Useful Links​